It is a fact that Sesshoumaru and Inuyasha are inuyoukai – dog demons. It's also commonly known that dogs have a hierarchical society based on dominance and submission; dogs have no concept of equality, and they must always know which of them is stronger and in charge. It only makes sense that dog demons would be much the same, or at least have similar instincts.
So, the question is, which of the two of them is the more dominant? It might seem obvious at first (especially if one has only seen the TV series), but there is more to it. For one, they fight; clearly dominant and submissive dogs don't fight. Perhaps that explains why Inuyasha was able to live for 150 years before he was pinned to the tree without being killed, but they do fight, constantly, throughout the series itself. This indicates they're actually vying for dominance between them (or would, anyway, if they were purely dogs with no human motivations).
However, since they are partially canine, they can be at least partially analyzed on that premise. Dogs have certain signals of confidence, fear, and aggression in their body language that can be seen. There are more human personality traits as well, and factors outside of their control also play a part.
Signals of confidence:
| | | |
| --- | --- | --- |
| | INUYASHA | SESSHOUMARU |
| Erect stance | | X |
| Direct look | X | X |
| Pricked or relaxed ears | X | X |
| Relaxed pupils | X | X |
Sesshoumaru does not have "prick-able" ears, but his expression is usually relaxed, unless Inuyasha has riled him up and he starts to 'go demon'.
Note that Inuyasha's are only applicable around Sesshoumaru. He usually seems to lack confidence and even be submissive around Kagome, especially as he often looks away. Around each other, they both appear to be very confident; Inuyasha truly seems to believe his own blustering during their fights.
Signals of fear:
| | | |
| --- | --- | --- |
| Lowered stance | | |
| Looking away | | |
| Dilated pupils | | |
| Barking/whining | | |
As you can see, neither of them shows fear of the other. This is not particularly surprising. Inuyasha can at times be seen to have a lowered stance and his constantly yelling could be taken as whining, but those seem to indicate more aggressive growling and crouching. (See below.)
Signals of aggression:
| | | |
| --- | --- | --- |
| Staring | X | X |
| Snarling | X | |
| Ears pinned | X | |
| Stiffness | X | |
| Growling | X | |
| Narrowed, fixed eyes | | X |
| Lowered head/ crouching | X | |
| Hackles | X | |
Obviously Sesshoumaru doesn't truly have ears that can be pinned back, but his facial expression never changes in a way that would indicate he would be doing that if he could, save for the occasionally narrowed eyes. That's very occasional, however. Also, neither of them technically have hackles to raise (although you could make a case for Sesshoumaru's fur), but Inuyasha's stance indicates that if he could, he would be bristling. For 'stiffness' I looked at their movements, mostly. Inuyasha gives more of a sense of rigidity with his heavy, jerky movements, while Sesshoumaru, while self-controlled, seems to move more fluidly, and thus appears more relaxed. Inuyasha is decidedly more outwardly aggressive than Sesshoumaru.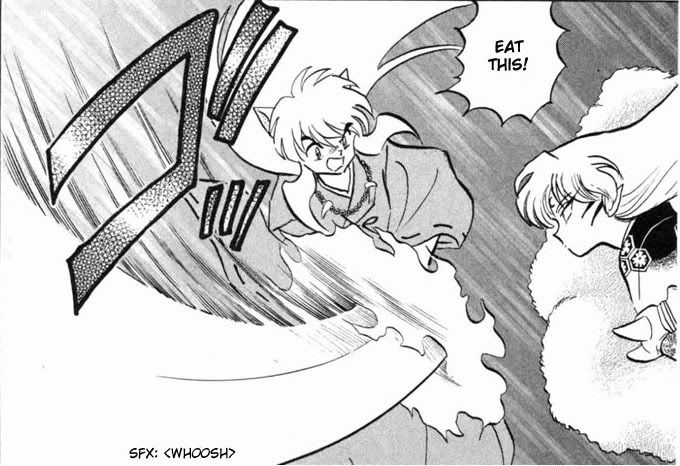 Look at that aggression. Though Sesshoumaru is the attacker, the aggression is obviously unbalanced. Sesshoumaru is staring; Inuyasha is staring, snarling, 'growling', seems to be bristling, and his ears, though not very expressive in the manga, seem to be more laid back (only the back of one is visible, which could be either carelessness or an intentional change).
Click to see the full detail of his angry, angry expression.
Physical attributes:
Sesshoumaru is a bit taller than Inuyasha. However, his long hair, the fact that he wears white (with flowers on it), his fur, his build, and his facial markings, conspire to make him look more 'delicate'. In the manga profiles book, the author herself states that Sesshoumaru is "handsome and frail looking at the same time" [pg. 162]. He is not the more imposing of the two, physically.
Personality:
| | | |
| --- | --- | --- |
| Leader | X | X |
| Territorial | X | X |
| Pride | X | X |
| Pack mentality | X | |
| Combative | X | |
Inuyasha and Sesshoumaru both have a personality more inclined to be a leader than a follower, although technically that would mean Sesshoumaru would have to cooperate to some extent with others, which he's loathe to do. Inuyasha takes the leadership role in their final fight with Naraku, and Sesshoumaru lets him, but neither of them is really willing to listen to others, let alone follow orders.
Inuyasha is decidedly more territorial. He will usually protect any place he's staying and anyone who happens to be around him, seemingly taking them on as part of his responsibility. He's grown through the plot so that this comes more naturally to him, where at the beginning he had to be cajoled or manipulated to do that protecting. Sesshoumaru's territory seems to be comprised solely of Rin, Jaken, and his swords, and there are no other people or things he would fight over, but he would fight over those things at least as fiercely as Inuyasha.
Both are extremely prideful. Sesshoumaru has the pride of an aristocrat, and Inuyasha the pride of his own strong will; neither would willingly compromise that.
Inuyasha has much more of a pack mentality. After getting through his defensive, lonely shell, he works easily in groups and is at ease with others, seemingly at his best when working with or for his friends. Sesshoumaru is not. He sees not only depending on but cooperating with others as a weakness and seems to despise all company save the few weak companions he selects.
Inuyasha is much more combative; he will fight over just about anything and gets insulted and angry easily. Sesshoumaru, while stronger, is more passive. He is usually content to ignore people who should be his enemies unless he is insulted or they are in his way, and will fight if attacked or provoked but will not generally start a fight without his own reasons. (Inuyasha being Inuyasha seems to be reason enough.)
Outside signals:
Sesshoumaru has approximately 5 human years on Inuyasha; since he is a full demon, that probably correlates to 200 or more calendar years; an older dog will usually have an advantage in fights of dominance, being already established. He is also described in the manga profiles book as "the most powerful demon in the feudal era". However, when he's desperate, Inuyasha's youki is powerful enough to subdue the meidou zangetsuha, and his mastery of the Tetsusaiga effectively trumps the power of anyone else, since it is in an endless loop of becoming stronger as it absorbs powers from defeated enemies.
Other signs:
| | | |
| --- | --- | --- |
| Father's support | X | |
| The plot | X | |
From almost the beginning of the series, it was clear that their father wished them at least to be equals, as he gave the powerful heirloom sword to Inuyasha to protect himself. However, as dogs have no sense of equality, this caused more fighting between them than if he had left Tetsusaiga to Sesshoumaru. Dogs of nearly equal status will continue to fight until they determine dominance.
From volume 50 onward in the manga, though, it was revealed that there was more to it than that. Sesshoumaru's Tenseiga was revealed to be a cast off piece of Tetsusaiga, imbued with the Meidou Zangetsuha with the intention that Sesshoumaru would perfect it, and then it would be taken back by Tetsusaiga. It seems he wanted them to fight specifically so that Inuyasha would defeat Sesshoumaru and become even stronger. His motivations are a mystery; perhaps he felt Sesshoumaru would never accept Inuyasha unless Inuyasha could defeat him. However, it is clear that his support is with Inuyasha.
Furthermore, throughout the series Inuyasha has been growing into his power and gaining confidence and control of himself, becoming stronger all around. Likewise, Sesshoumaru has been softened, forced to work with others, made to acknowledge Inuyasha as the true heir to Tetsusaiga, and generally knocked down a couple pegs. It was written with Inuyasha becoming more dominant and Sesshoumaru less so.
In Conclusion
| | | |
| --- | --- | --- |
| Summary | 19 | 12 |
| Adjusted (see below) | 12 | 10 |
Inuyasha does have more of the indications of being the more dominate dog, but the numbers are slightly misleading. It seems so unbalanced because Inuyasha is a much more aggressive and physically expressive person; I worked an adjusted total by removing aggression from the equation, which gives a more realistic summary. Obviously, there is no really simple answer.
Inuyasha is the more aggressive of the two, and more suited to actually being a leader of people. He is fearless and masterful with the Tetsusaiga, and, though young, has a strong personality and the support of his father's will and his friends.
Sesshoumaru is by no means a weak person either. However, it seems unlikely that having acknowledged Inuyasha as his father's heir he would continue to fight him over the matter of the swords or their bloodline, which was his major quarrel; at the end of the manga he's seen passing Inuyasha and basically ignoring him (aside from a dirty look at Kagome). He sees cooperation as weakness and rarely even uses others, and so is much more suited to being a loner than a leader of people, or part of any 'pack'. When he can't be on top, it seems he removes himself from the hierarchy altogether to satisfy his pride.
It is impossible to say that one is more dominant that the other. At the beginning of the series, Sesshoumaru clearly was; by the end of the series, Inuyasha seems to be. They both grow as people and change during the course of the story.
And since I know a lot of people are reading this for yaoi purposes, I will say that assuming you choose the correct point in the timeline, they can really be portrayed either way. :)
For some research into dog behavior and body language, I used these pages:
http://www.wagntrain.com/BodyLanguage.htm
http://www.petplace.com/dogs/inter-dog-dominance-aggression/page3.aspx